As we return to live events in 2021, here are 10 tips to help make exhibiting a cost-effective experience.
PLAN YOUR STAND
It is important for exhibitors to know, as we slowly return to live events, that exhibiting can be achieved in a cost effective way whilst still allowing your brand to stand out from the crowd.
This all begins with  a solid and detailed plan. Start with the reasons for exhibiting and the goals. Choose wisely the exhibition to attend and have a thorough read through the points below! then reach out to industry expert for some advice.
USE OF EXHIBITION SPACE
We all love our space, but at an #exhibition you should consider a big 💲💸 sign next to each sqm.
An increase in space will cost a business more for:
💰 The space
💰 The stand build
💰 Staffing costs and so on….
It can escalate quickly so ask yourself, do we need the space and put your focus on stand position over size.
STAFFING YOUR EXHIBITION STAND
Your staff, more than anything else, can make or break your exhibition success.
They are an enormous part of that first impression your business makes.
Staff need to be motivated, professional and welcoming.
Conduct an orientation with staff on the stand the day before open and seriously consider getting an expert in to assist.
USE OF SHOW & ORGANISER MARKETING
Make the most of the free marketing provided by organisers of events!
Organisers are there to support you, they want you and the event to succeed.
Jump on any exhibition website and bring up an exhibitor list and look at how many companies have no detail or logos under their listing! Will you be clicking on this or visiting their stand?
Exhibition stand design is something close to our hearts, however we often don't receive a detailed design brief from clients.
Of course, an experienced stand contractor should have a briefing document of their own, they should offer their advice, pose questions and get answers to ultimately save you money.
We never apply a one size fits all and in consultation with clients, design and develop solutions.
A professional exhibition stand design will provide ample opportunity for you to convey your message, how you use this space is critical.
Try to convey a clear message to your audience with a simple glance. Don't clutter, 1 hero image is far more impressive than a collage of products and services.
I'd strongly suggest the services of a professional graphic designer, and of course, consider the longevity of the graphics as detailed below!
We touched on this in Tip #6 with graphics, but considering the future of your stand is critical from the beginning of the process.
Any multiple usage is going to assist with budget in year one and ongoing. It may also assist in gaining internal approving for the spend.
So, its critical this is accounted for in the initial concepts.
Consider use beyond your next exhibition, some great examples below.
We also encourage sustainability and avoid single use items on stands.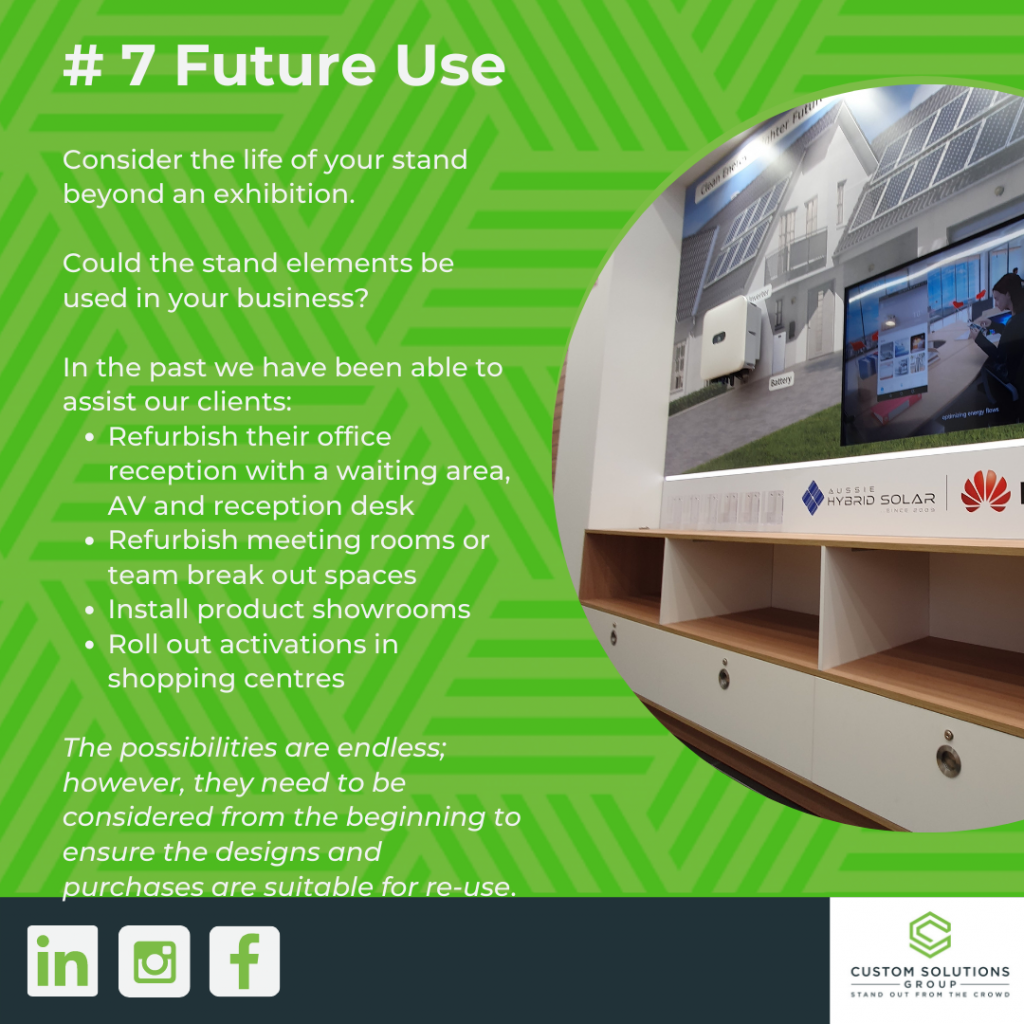 I feel 2021 could be the year of the stand package.
A cost-effective solution to exhibiting whether an upgrade from shell scheme, or scaling back from a custom stand.
A good design should be flexible to your stand size, and enable you to take away graphics and other elements to save you with future events.
You can check out our packages here.
Obviously a no brainer, choose Custom Solutions Group. 😜
Seriously consider what your business requires from a contractor and get a good understanding of what is and isn't included in your quote. What appears like for like, rarely is.
I encourage exhibitors to consider how many points of contact you will have with your contractor. Experience tells me the more hands a project goes through the bigger discrepancies in the final result.
Push to have your initial contact on the project from proposal to onsite delivery.
The most important tip I can give. If not done well, all the hard work can unravel very quickly and any savings made pale into insignificance against lost sales!!
Follow up IMMEDIATELY!
I hope these tips have been of some assistance, happy exhibiting in 2021!
Ensure you and your stand builder are taking these into consideration from the beginning. Feel free to contact us at Custom Solutions Group today to ensure you "Stand out From the Crowd" with a stress free display experience.
We're highly experienced & ready to help!
Whether you're just starting to think about your project, or you're ready to get started today – we're here to help.
Request a quote